VS., originally uploaded by 3byOne Media www.3byONE.com.
Via Flickr:
Photobooth shot :
I was bored and setup way early and had tons of down time so I took some of the props out and shots some crazy pics lol!
Alie Bee Ring Flash
Muslin White backdrop
State of the Ringflash market Ver 02: Hensel, Profoto, Elinchrom, Bowens, Broncolor, Alienbees, Orbis, Rayflash, Gopro, CoCo, Horusbennu
★ See full size in flickr -> http://www.flickr.com/photos/publish9/4162010951/
This version added 3 cheap Ringflash  adapter
GoPro O Flash TTL Ring Light
COCO Ringflash Adapter
Horusbennu Portable Ringflash  Adapter
DSC_8317November 14, 2009, originally uploaded by Joseph-Balestra.
photoshoot and lighting info
Nikon 35mm 1.8
Alienbee ABR800 , Beauty dish
DSC_223520090802, originally uploaded by Joseph-Balestra.
photoshoot and lighting info
Nikon  35mm 1.8
Alienbee AB800 with Beauty dish
State of the Ringflah market : Hensel, Profoto, Elinchrom, Bowens, Broncolor, Alienbees, Orbis, Rayflash, originally uploaded by publish9(아홉시).
See Full Size ->  click
State of the Ringflah market : Hensel, Profoto, Elinchrom, Bowens, Broncolor, Alienbees, Orbis, Rayflash  NOV, 2009
This Contents include :
Hensel
RINGFLASH 3000 XS                 $1,329.95
3410 Ringflash 3000PM-XS
Profoto
Proring
Proring 2
Elinchrom
Ringflash 1500    $1,468.75
Ringflash 3000
Bowens
Ringlite Converter         $354.90
Ringflash Pro               $1,699.95
Broncolor
Ringflash C
Ringflash P
alienbees
ABR800    $399
Orbis Ringflah Adapter
rayflash $199.95
*Ringflah Price info (via adorama NOV.2009)
And here also stunning  collage about DSLR
http://www.flickr.com/photos/penmachine/3177722200/
Orbis Ringflash Adapter : $199.90
Rayflash $199.95
Laugh Factory I, originally uploaded by FourT6and2.
Nikon D90
Sigma 10-20mm
Alien Bees ABR800 Ring Flash
Tricia Jo: Reprised, originally uploaded by cyeh01.
Full writeup as always here: charlesyehstudios.blogspot.com/2009/11/tricia-jo-reprised…

Camera: D3/24-70mm f2.8G @44mm, 1/200th, f/7.1, ISO200

Strobist: AB800 in 28″ Apollo Westcott softbox from camera upper left. AB800 from camera far upper left.

Model: Tricia Jo Hoffman

Makeup: Kelli Zehnder

Wardrobe: Tricia Jo/Michelle Green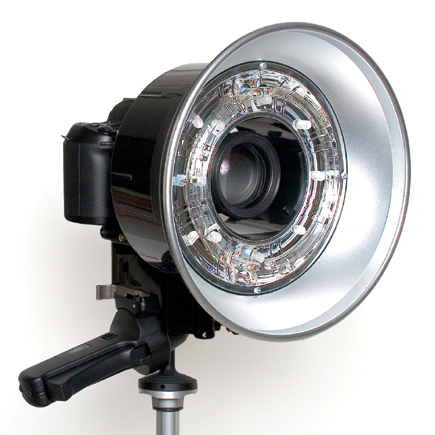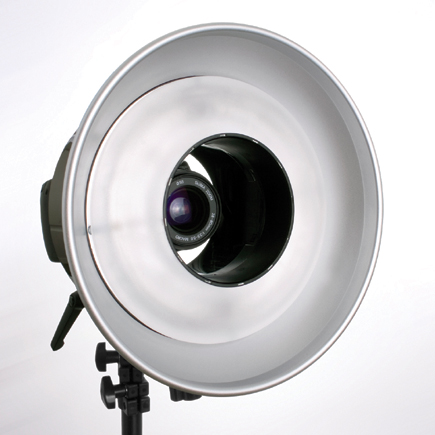 The ABR800 is a highly evolved, self-contained ringflash system designed to meet the challenges of the new-generation creative professional photographer. It is extremely compact, lightweight and easy to use with professional or semi-professional cameras with lenses up to 4 inches in diameter. A studio ringflash is an invaluable and instantly favorite tool of the professional photographer due to its ability to produce essentially shadow-free lighting, revealing unique catchlights in the eyes of subjects when used with fashion and portrait work.
(via www.alienbees.com/abr800.html)
| | |
| --- | --- |
| | |
| Manufacturer | Alien Bees |
| Product | ABR800 |
| Format | Monolight |
| Price (MSRP) | $399 |
| Output (WS) | 320/800 |
| Power | 120 VAC |
| Dimensions | 8″diam, 4.5″ d |
| Weight | 2.5 lbs |
| Power Range | 1/32 to full, continuous |
| Modeling Light | 150 watt (8, 10 watt bulbs) |
| Slave | built-in |
| Remote Control | optional (RR1) |
| Portable Power | optional (AB Vagabond) |
| Sync Type | 1/8″ |
| Reflector | 10″ silver |
| Accessory Mount | clip |
| Flash Bulb | 2, half circle |
| White Balance Setting | 5600K |
| Recycle @ full | 1s |
| Accessories | 30″ Moon unit softbox |
| Flash Duration | 1/2000s |
| Sync voltage | <6V |
| Flash Bulb Durability (flashes) | 250k – 1M |
Flashpower
The AlienBees™ Ringflash is a powerful, self-contained studio flash unit, producing320 True Wattseconds of power and 14,000 Lumenseconds of output. The power is independently adjustable over a stepless 5 f-stop range from Full down to 1/32nd of the total power, in whole f-stop increments, and everywhere in between.



The Back Control Panel
The Back Panel of the ringflash unit offers you clear control of the unit's features, conveniently labeled and collectively located, for quick manipulation. With a slide fader for flashpower control, you can adjust the output steplessly over the 5 f-stop power range. The modeling lamp can be turned on or off with the model "On" button, it may be used as a recycle indicator with the "Cycle" button, and it can be set to track the changes made in flashpower with the "Track" button. With a red dump light and a green ready light, you can clearly see the unit's recycle and ready status at any point during your shoot while the red test button allows test flashing. The back panel additionally holds the sync jack and remote jack, as well as the slave cell.
Power Requirements
As the ABR800 requires AC power, each unit comes with our heavy-duty 15-foot power cord, having a three-wire grounded plug to connect to a standard 120 Vac, 50-60 Hz power outlet. The cord connects to the recessed power socket on the back panel of the unit with a standard IEC connector. The down-angle power cord head and recessed socket eliminate interference with the camera body.
The Sync Cord
Our 12-inch sync cord arrives with each ABR800 unit, so that you may connect the ringflash to your camera. This cord has a 1/8-inch stereo plug on one end to connect on the back panel of your ringflash, with a PC-connection on the other end to connect to your camera. With the sync cord, your ringflash will only take its cue to fire from you when your camera shutter is pressed.

If your camera does not offer PC-connection, the cord can be connected through your hot shoe with an adaptor or our

CyberSync™ 2.4GHz Radio Remote Control systems may be used. For our Hot Shoe Adaptor (item HSA), please see our hardware page. The CyberSync™ 2.4GHz Radio Remote Control systems are now available, click here for more information.
The Flashtubes
The ABR800 uses two 6-inch diameter, 10mm flashtubes that work as a pair, with both required for a complete circular flash. The tubes have an expected lifespan of 250,000 to 1,000,000 flashes and upon exhaustion or breakage, the user may easily replace them. The color temperature produced is 5500°K at Mid-Power, varying +/- 200º at other power levels.
The Modeling Lamps
A set of eight 10-Watt, 24-Volt Modeling Lamps is used in each unit, mounted coaxially on-axis with the flashtube to provide a true "What-You-See-Is-What-You-Get" modeling preview. Proprietary voltage regulation circuitry provides effective modeling output comparable to a 150-Watt lamp. With matched light patterns and diffusion, the output of the lamps will match the pattern of light that you will see on film or digital image. The long-life, high-efficiency bulbs have a 500 to 3000 hour lifespan and may be simply and quickly replaced by the user when needed.
The Slave Cell and Slave Tripper
To reduce the number of cords in your setup, the ringflash has a sensitive built-in slave tripper, allowing you to sync a single light in your setup to your camera and reliably fire the remaining lights in your setup via their slave cells. The slave cell will fire whenever it "sees" any flash of light, and may be disengaged by plugging a sync cord into the sync jack on the back panel.
Internal Venting and Cooling
The ringflash incorporates axial-flow thermodynamics to reduce heat build-up, additionally designed with a built-in cooling fan to allow extended, all-day shooting sessions.
The Protective Front Cover / Diffuser
Each unit arrives with our front cover, fitted on the faceplate of the unit. This frosted clear cover functions as a safety piece to protect the flashtube and modeling lamp while in transit. While in use, the cover functions as a diffuser, softening the total light output (it may be removed if high-contrast, non-diffused light is desired). Mounted to the inside of the ringflash, the diffuser has an opaque chrome interior to bounce the light into the reflector and keep it away from the lens. Additionally, the piece operates as a gel holder, having a raised lip around the center ring to hold our doughnut shaped gels (sold separately as the Set of Six Warming and Diffusion Filters)
The Ring Reflector
The ABR800 arrives with our standard wide-angle reflector. This flat field reflector measures 10 inches in diameter, having an 80° beam spread that provides even coverage with the widest of lens angles. Additionally, the reflector is designed to hold our accessory 20° Honeycomb Grid for "Hollywood Style" lighting and for other low-key effects.
The Housing
The ringflash is housed in polycarbonate Lexan (the same material that our standard AlienBees™ flash units are made of – which is the same material used to make bullet-proof glass!). The unique design of the housing allows simple mounting and dismounting of the ring reflector, the front cover / diffuser and the Moon Unit reflector and speedring with a "Reflector Lock" knob located on the back control panel of the unit. The housing design also includes a recessed power cord socket to prevent cord interference with your camera body. The mounting post attached to the back of the housing is the connection point for our universal camera mounting bracket.
Mounting Hardware
The ABR800 Ringflash arrives with our universal camera mounting bracket, designed to accommodate most popular pro and semi-cameras with its wide range of adjustment capabilities. The bracket attaches to the ringflash mounting post, offering a convenient, padded camera platform where your camera may be attached with the provided platform mounting screw. The all-in-one bracket offers atripod socket for mounting the bracket on your standard tripod as well as ourswivel light stand mount The lightweight design of the ringflash makes ideal for handheld operation as well, where the extended length of the mounting post may be used as a handle or the bracket itself may be held, fitting comfortably in the palm of your hand. Adjustments are provided to move the camera up and down,in and out and side to side, allowing centering of the ringflash and lens with just about any camera. The bracket can be adjusted vertically to accommodate cameras with a 1-inch to 4.75-inch distance from the bottom of the camera (tripod mount surface) to the center of the lens. The platform can additionally be removed from the bracket, leaving the remaining bracket in position, allowing you to keep your camera attached to review images, change film or use the camera away from the ringflash in non-aim through mode.
The Umbrella Adaptor
Each unit arrives with our accessory umbrella adaptor, fitting inside the ringflash center chamber and locked into position using the same twist-and-lock method that is used to attach the ringflash diffuser. The adaptor allows umbrellas to be used with the ringflash unit when using it as a conventional flash in non-aim-through mode. An umbrella pole slides through the adaptor and is tightened into place with the adjustment knob.

Looking for Replacements and Optional Hardware?

See our hardware page for for replacement and optional power cords, our replacement flashtubes, our replacement modeling lamps and our replacement sync cord along with alternate sync cord options.